Information
Rock'n'Camp is the camp site for you who want a tent site in the middle of the action and really live and breathe rock!
Our entrance is only a stone´s throw by foot from the festival entrance and as a resident you are close to food, music and everything else that sets the mood that sweden rock is known for.
Our area borders to food court, hot water showers, real flushed toilets and charging station for cellphones and smaller powerbanks.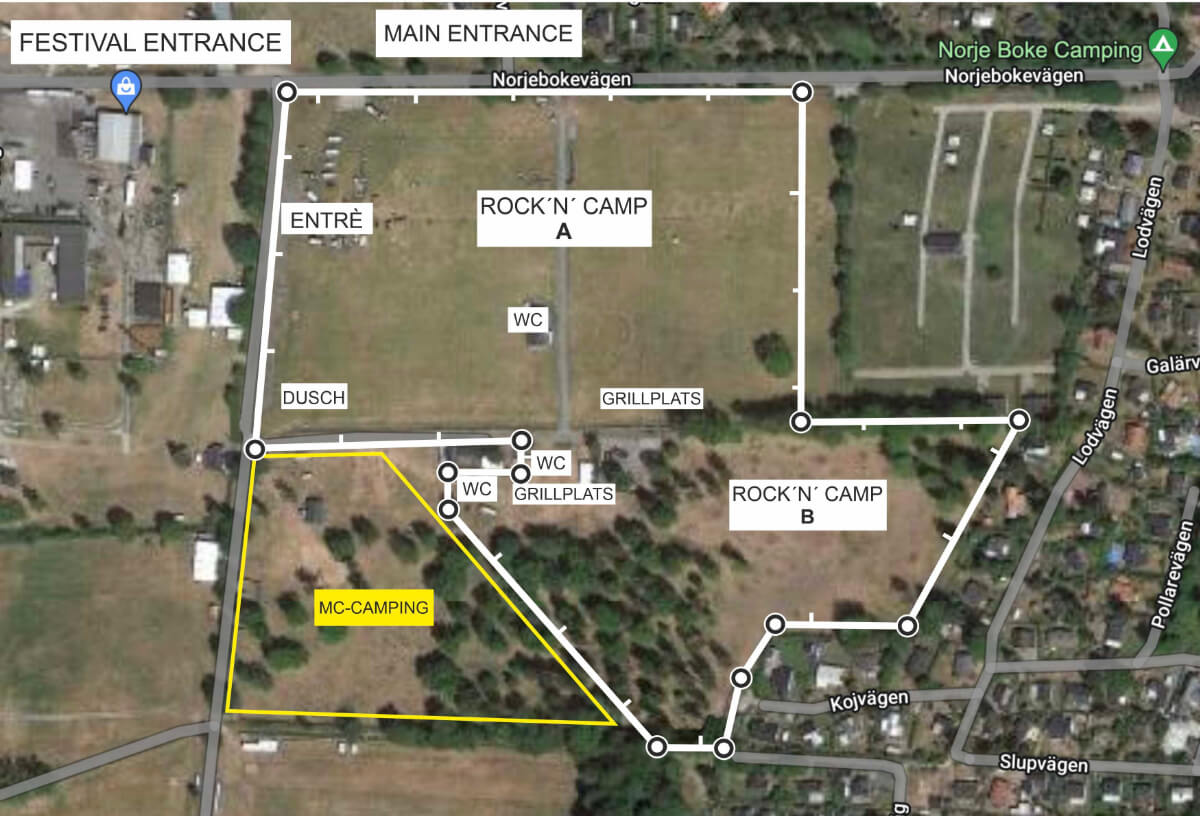 Facilities
Water flush toilets
Handicap toilet
Showers
BBQ area with grill. Bring your own charcoal and lighter fluid
Daily cleaning of the public places
Camp site staff available 24/7
Parking
For booking parking we refer to the following:
Terms
The age limit is 16 without a guardian.
In the event of a change in an existing booking, to fewer people or a later arrival date than paid for, no refund will be made to the customer. However, the changes are possible to make.
It is okay to sell your place. The seller must then email to [email protected] and tell us the buyer's name, email address and telephone number. The buyer will then get a new qr code sent to their email which is valid upon check-in.
The following rules of procedure apply to Rock'n'Camp in Sölvesborg:
The guest are responsible for making it look nice and tidy on their campsite.
Power plants are not allowed.
Pets are not allowed.
Barbeque is only allowed on the designated barbeque areas.
Sofas, armchairs and other large furniture are not allowed.
The camp site must be in the same condition when you leave as it was when you arrived.
The maximum size of a tent is adapted to how many people will live in it. The size of the tent may not exceed to people at most than what is to live in it, ie a maximum of six-person tent for four people.
Guests visiting the campsite must have valid camping wrist bands from Rock ´n´ Camp.
Fire lanes must not be blocked.
Requests and instructions from staff must be obeyed.
Wood burning stove is not allowed.
Violation of the rules of procedure can mean that the guest is expelled from the area.
Cancellation policy
Cancellation must be in writing to: rockncampswe[email protected], no later than the booked arrival day.
The booking is considered cancelled when the consumer has received confirmation of cancellation from us.
For cancellation, an administrative fee of 150 sek is charged. The remaining amount is refunded.